Exhibitions—
2016
Javelins in the Scrum
North Projects, Ōtautahi/Christchurch, Aotearoa/New Zealand
April 23 - May 21



Javelins in the Scrum was created for the space of North Projects, an independently initiated gallery space that ran for two years (2015-2016) out of a converted house in post-earthquake
Ōtautahi/Christchurch, Aortearoa/New Zealand.

This body of work considers forms of address to the future from the position of the citizen (polités) living within the scrum or play-pit of society. References to the javelin and the scrum—the position on a football field where opposing teams initiate a round of play—suggest a double entendre of recreation and battle.

Formal strategies such as word play and the poking and cutting of paper are applied to disrupt the reading of normative worldviews, namely western rationalist ones. Will You Exchange Gold for Eastern Funds is a work that aims to poke fun at exchange values between eastern and western conceptions of time and tense. The words 'any aoriana' (trans. 'behind', 'in the future' in the Malagasy language of Madagascar) are revealed through the poking of hundreds of pin-holes into a blank sheet of paper. As we read the words (presented to us in reverse), the light from outside the gallery enters the space to cast a shadow of the words in their correct comprehension. Through the inability to see the future the way we can see the past, the saying goes that a future is behind where one does not have eyes in the back of their head. The act of pushing a pin through something—similar to the throwing of a javelin—is a forward-advancing action that has multiple use-values. In rendering the word used by the Malagasy people to express futurity through a web of laboured pin-holes, this work is acting to disrupt customary perceptions of the future as forward-facing, as told to us by the demands of late capitalism. In so doing, this subtle gesture works to align with decolonial thinking around larger narratives of world-time.


Untitled I, II and III are a suite of paintings developed through various concrete and poetic paraphrasings, lifted from personal archival photographs and historic texts. These pairings are not offered as mutually exclusive or binary in nature (take concrete poetry for example), but rather as a series of generative conundrums

that allow us to think about the co-dependency of the future on the past.
Elsewhere in
The Three Books of Coming and Becoming I
,
II
and
III
, figurative pairings take place trans-historically across three separate time registers: the first is a reworking of Albrecht Dürer's proportional sketch of a stout woman (c.1500), the second is an excerpt of an illustration of a waving man that accompanied the Pioneer 10 Spacecraft (as referenced by Laurie Anderson in her 1977 work
American's On The Move
) and the third is taken from an autopsy report of an African American man made visible through the 2015 Black Lives Matter movement. All three images are united by a sense of citizenry in various stages of construction and deconstruction. By framing these historic moments as books, the project of documenting the site of the citizen over time becomes a project in 'public making' through expanded forms of public-ation.
In
Prefix Politics
the common prefix 'Po' has been positioned to read as 'PoPo'. This common slang—originating in California in the 1980's—is used as street code to warn of the presence of multiple police officers within a public space. On closer inspection, the repeated and visibly opaque prefix 'Po' rendered in oil paint reveals the words 'Polis' and 'Polités' (trans. 'city' and 'citizen' respectively) fleshed out through less obvious pin-hole markings. The staggered effect of nuanced visibility in accordance with one's physical proximity to the work is akin to the mutation of these terms within a given context. Connotations of the word 'police' vary greatly depending on the social and cultural conditions of reference, as well as the status and agency of the individual in proximity to the terms of conduct exercised by a governing body, such as the police force. The notion that one needs to have eyes in the back of their head in order to see the future also applies to the day-to-day realities of certain groups within society, as we see with systemics of police brutality in many Aboriginal and African American communities.
—Abbra Kotlarczyk, April 2016
[essay by Robyn Maree Pickens]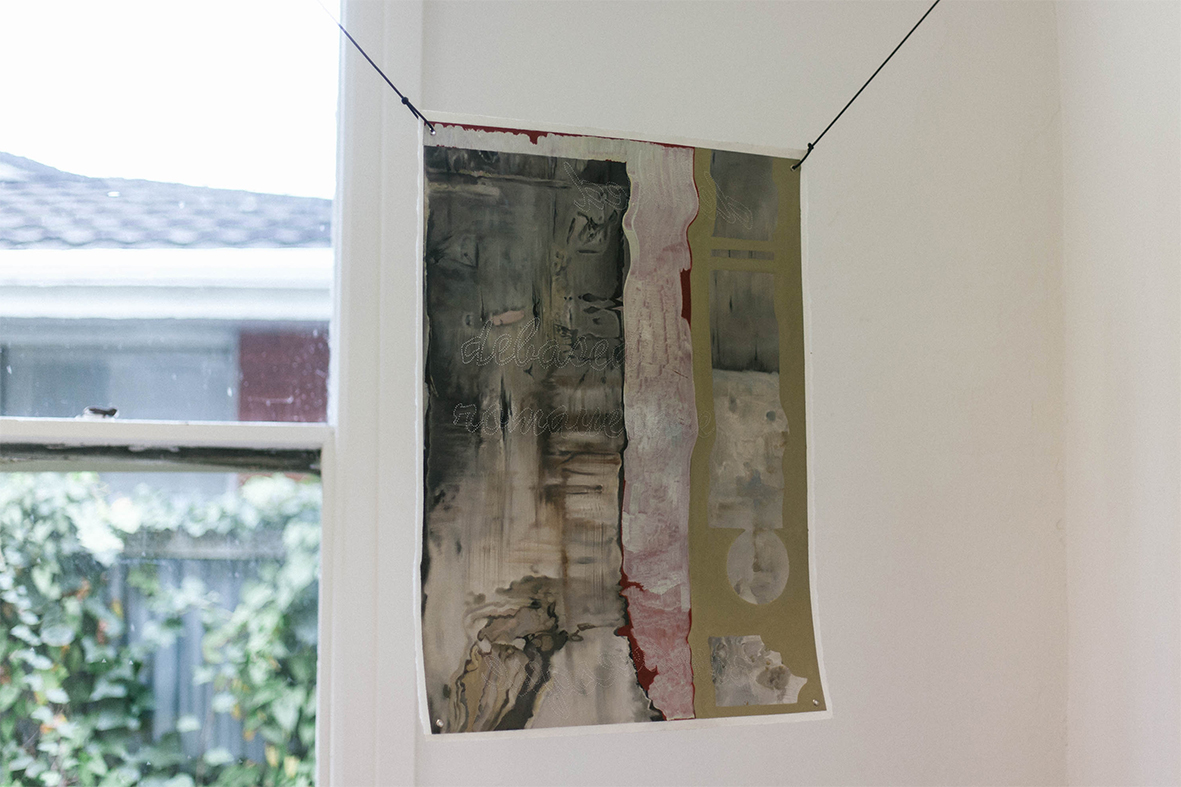 Untitled I: Debased Romanesque
oil paint • hand-poked pin holes on Arches paper • eyelets • black shock cord
56cm x 76cm each
Untitled II: O Maternal Ditch

oil paint • hand-poked pin holes on Arches paper • eyelets • black shock cord
56cm x 76cm each
Untitled III: Crude Time
oil paint • hand-poked pin holes on Arches paper • eyelets • black shock cord
56cm x 76cm each
Will You Exchange Gold For Eastern Funds
hand-poked pin holes on Somerset paper • eyelets • black shock cord
56cm x 76cm

[left]
Will You Exchange Gold For Eastern Funds
[right]
Prefix Politics
Prefix Politics
oil paint • hand-poked pin holes on Arches paper • painters tape • push pins
56cm x 76cm
max.no.passes
fired and unglazed stoneware skimming stones • besser block
dimensions variable
The Three Books of Coming and Becoming I, II and III
graphite pencil and hand-cut Somerset paper • magnets
56cm x 76cm each
The Three Books of Coming and Becoming I and II
The Three Books of Coming and Becoming III
Stock Taking in Firm Draperie
digital inkjet print on cotton canvas • besser blocks
dimensions variable
Stock Taking to Distort Future Proportions I
digital inkjet print on rag paper
40cm x 60cm
Stock Taking to Distort Future Proportions II
digital inkjet print on rag paper
40cm x 60cm
When May I Expect The Goods
hand-poked pin holes on Somerset paper • painter's tape • push pins
56cm x 76cm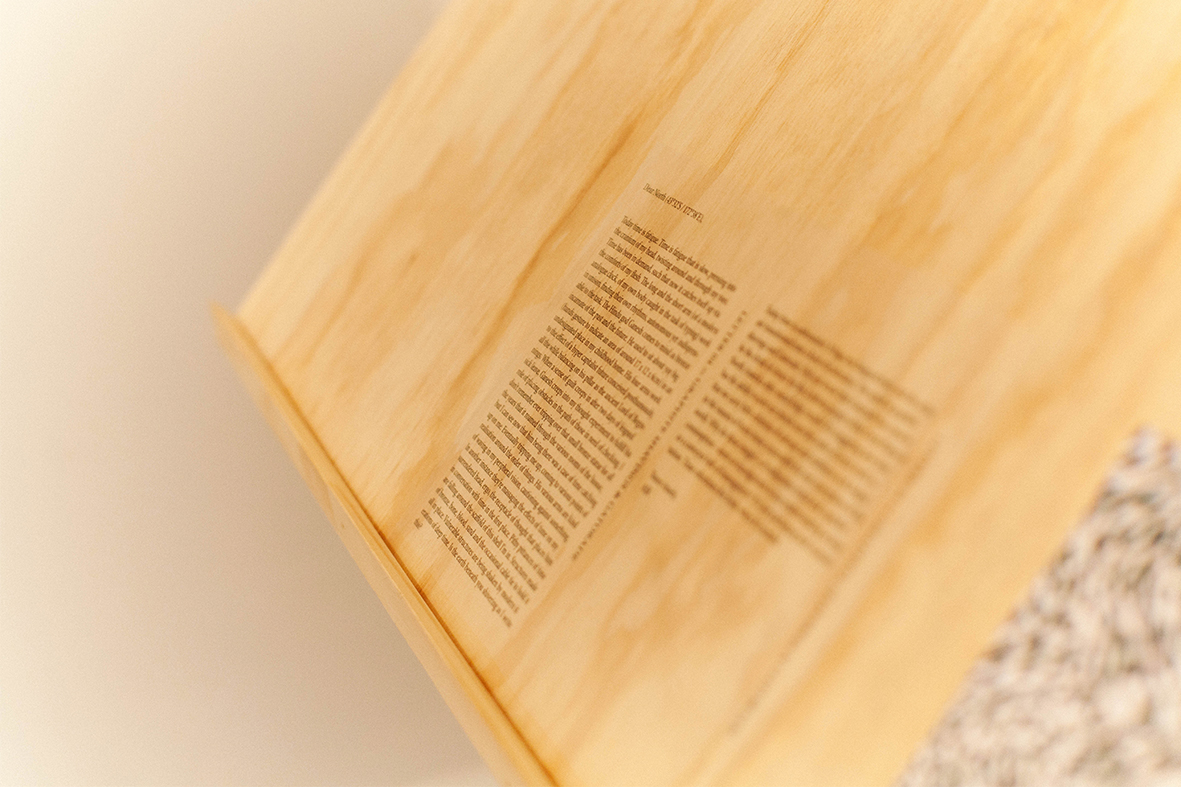 Javelins in the Scrum
reading room digital prints on accetate and rag paper